Our range of treat boxes comes in various categories as outlined below. These treat boxes make perfect gifts for any occasion. From individual to corporate gifts, birthday parties to major social and corporate events. They are even great for weddings, holiday parties, and social functions, or just because you simply love them!! And when combined with our treat box combo's they indeed make a unique gift for the recipient. Please visit our gallery to get an idea about each product range.
Our Treatboxes are fully customizable to fit the needs of your event for even the largest of parties! We will be happy to discuss a your needs . Please drops us a line at info@atu4u.co.uk or call us on 079990 95924 for consultation and pricing information.
Pricing -
Basic Pops - @ £1.50 each ( For quantities over 3 dozens in a single order please contact us to discuss pricing)
Themed Pops - Our themed pops range start @ £2.00 each and will vary depending on the complexity of the design ( For quantities over 3 dozens in a single order please contact us to discuss pricing)
Basic Pops/Bites
Our basic pops come in all of the above flavour and coated with your choice of colour, decorated with sprinkles or drizzled with chocolate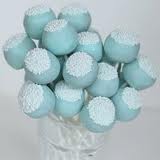 Treat Basket
Your choice of pops presented in beautifully decorated galvanized painted pail lovingly gift wrapped and guaranteed to bring a smile for the recipient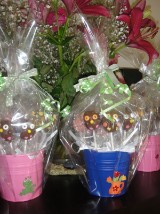 Themed Pops/Bites
Themed pops and bites are bespoke pops especially designed with a theme in mind for an event or occasion. For e.g 'Hedwig owl's' for a Harry Potter party, clowns, ladybugs etc. Please see our gallery for more ideas.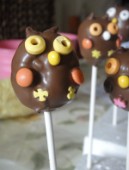 Treat Boxes
All our treat boxes are created to take in a dozen cake pops and wrapped in tissue so that your recipient is yet to find out its delicious content.